Jual Steam CD Key Shadow of the Tomb Raider
Shadow of the Tomb Raider adalah permainan video aksi-petualangan yang dikembangkan oleh Eidos Montréal bersama dengan Crystal Dynamics dan diterbitkan oleh Square Enix. Ini melanjutkan narasi dari game 2015 Rise of the Tomb Raider dan merupakan entri utama kedua belas dalam seri Tomb Raider.
Bertempat tak lama setelah peristiwa Rise of the Tomb Raider, kisahnya mengikuti Lara Croft saat ia berkelana melalui daerah tropis Amerika ke kota legendaris Paititi, melawan organisasi paramiliter Trinity dan berlomba untuk menghentikan kiamat Maya yang telah dilepaskannya. Lara harus melintasi lingkungan dan memerangi musuh dengan senjata api dan sembunyi saat dia menjelajahi hub semi terbuka. Di hub ini dia dapat menyerang makam tantangan untuk membuka hadiah baru, menyelesaikan misi sampingan, dan mencari sumber daya yang dapat digunakan untuk membuat materi yang bermanfaat.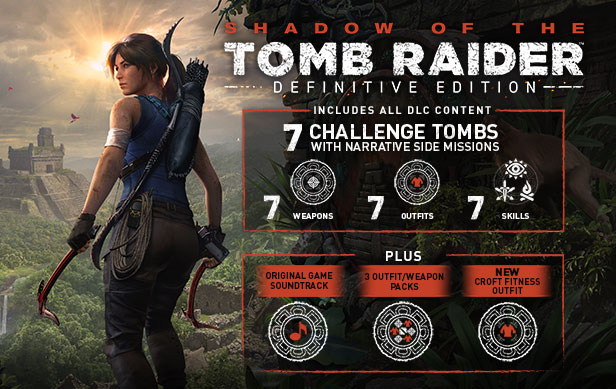 Info Game
Judul: Shadow of the Tomb Raider: Definitive Edition
Genre:
Action
Adventure
Developer: Eidos-Montréal
Publisher: Square Enix
Tanggal Rilis: 14 Sep, 2018
Bahasa: English
*
, French
*
, Italian
*
, German
*
, Spanish – Spain
*
, Korean, Polish
*
, Portuguese – Brazil
*
, Russian
*
, Simplified Chinese
*
, Traditional Chinese
*
, Arabic
**
languages with full audio support
Official Website: https://www.tombraider.com/
Metacritic: 77
Steam Review: 82% Very Positive
Fitur Game
Single-player
Steam Achievements
Full controller support
Steam Trading Cards
Steam Cloud
Remote Play on Phone
Remote Play on Tablet
Remote Play on TV
---
System Requirements
Shadow of the Tomb Raider: Definitive Edition adalah game PC atau game untuk komputer, pastikan komputermu memenuhi syarat sebelum membeli game ini.
Minimum:
OS: Windows 7 64 bit
Processor: i3-3220 INTEL or AMD Equivalent
Memory: 8 GB RAM
Graphics: Nvidia GTX 660/GTX 1050 or AMD Radeon HD 7770
DirectX: Version 11
Storage: 40 GB available space
Recommended:
OS: Windows 10 64-bit
Processor: Intel Core i7 4770K, 3.40 Ghz or AMD Ryzen 5 1600, 3.20 Ghz
Memory: 16 GB RAM
Graphics: Nvidia GTX 1060 6GB or AMD Radeon RX 480, 8GB
DirectX: Version 12
Storage: 40 GB available space
---
SHADOW OF THE TOMB RAIDER © 2018, 2019 Square Enix Limited. Developed by Eidos Interactive Corporation. All rights reserved. SHADOW OF THE TOMB RAIDER, TOMB RAIDER, CRYSTAL DYNAMICS, the CRYSTAL DYNAMICS logo, EIDOS-MONTRÉAL, the EIDOS-MONTRÉAL logo, and LARA CROFT are registered trademarks or trademarks of Square Enix Limited. SQUARE ENIX and the SQUARE ENIX logo are registered trademarks or trademarks of Square Enix Holdings Co., Ltd. © 2018 The rating icon is a registered trademark of the entertainment software association. All other trademarks are the property of their respective owners.
Untuk informasi lebih lanjut tentang Shadow of the Tomb Raider: Definitive Edition silahkan lihat di Steam store pagenya di sini https://store.steampowered.com/app/750920/
Spesifikasi Produk
| | |
| --- | --- |
| Jenis Barang | Produk Digital, berupa kode, tanpa DVD atau barang fisik |
| Pembatasan Negara | CD key ada kemungkinan tidak bisa diredeem di negara tertentu terutama di luar Indonesia |
| Harga | Harga sesuai tertera di atas, tidak mengikuti toko lain termasuk Steam/Origin |
| Pembayaran | Transfer Bank (BCA); Minimarket; Kartu Debit, Virtual Account (ATM Bersama, Bank Mandiri, BNI, BRI, Maybank, CIMB Niaga, Bank Permata); Scan QR (Gopay, OVO, ShopeePay, Dana, LinkAja, BCA Mobile, BTPN Jenius) |
| Pengiriman | Kode dikirim via email |
| Ongkos kirim | GRATIS, tidak ada biaya pengiriman |
| Lama Pengiriman | Instant: Minimarket, Virtual Account, Scan QR |
| | 30 Menit: Transfer BCA |
| | 2 Hari kerja: Transfer bank dengan sistem Backorder |
| Garansi | Garansi key valid dan bisa diredeem |
| Kebijakan Pengembalian | Item yang sudah dibeli tidak dapat ditukar atau dikembalikan |
| Disclaimer | Kami adalah retailer, bukan developer game, kami tidak menangani bugs atau memberikan support untuk game tertentu. Tanggung jawab kami hanya masalah lisensi. Tidak ada garansi atau refund jika ada masalah di luar kuasa kami seperti: Komputer tidak kuat, game crash, tidak bisa launch, tidak kompatibel dengan OS tertentu, lupa password, tidak bisa login, game di luar ekspektasi dll |
| Syarat dan Ketentuan | Dengan membeli produk ini berarti setuju dengan Syarat dan Ketentuan |
---
Tentang Steam CD Key Shadow of the Tomb Raider
- Produk ini berupa Steam CD Key, bukan DVD/file, 100% original, aktivasi dan download di platform resmi (Steam).
- Tidak ada DVD/file download via GIMORI, file instalasi bisa didapatkan via Aplikasi Steam, setelah aktivasi/redeem
- Harga tidak mengikuti Steam Store, CD key tidak bisa dibeli via Steam Store, khusus dijual di retail dan pihak ketiga seperti Gimori
- GIMORI bukan jasa pembelian game steam, tidak perlu add friend, chat dll, untuk membeli CD key ini.
- Baca deskripsi, ketentuan dan System Requirements sebelum memutuskan membeli produk ini
- Steam Refund Policy tidak berlaku untuk untuk retail CD key
Proses Pembelian
- Klik tombol beli sekarang dan ikuti langkah selanjutnya untuk membeli CD key Shadow of the Tomb Raider
- Lakukan pembayaran, CD key akan dikirim via email jika order sudah diproses
- Jika sudah mendapat CD key, silahkan redeem CD Key Shadow of the Tomb Raider di Steam Store.
- Daftar / Login ke Steam Store via browser
di sini
- Jika sudah login, buka halaman ini
steam registerkey
- Masukkan CD key yang dikirim via email dari GIMORI
- Setelah aktivasi, silahkan install/download gamenya via Aplikasi Steam (tidak bisa via browser).
---
Produk berupa kode lisensi, tidak ada barang fisik, kode dikirim via email
Harga Shadow of the Tomb Raider ini bisa berubah sewaktu-waktu tanpa pemberitahuan