Steel Division: Normandy 44 versi deluxe ini berisi base game dan Deluxe Upgrade Pack yang berisi banyak item, info detail bisa dilihat dibawah:
Tentang Game
Steel Division: Normandy is a tactical real-time strategy (RTS) game that pits players against AI enemies in a single-player campaign — or against several opponents in massive 10-on-10 multiplayer battles. Steel Division: Normandy 44 allows players to take control over legendary military divisions from six different countries, such as the American 101st Airborne, the German armored 21st Panzer or the 3rd Canadian Division, during the invasion of Normandy in 1944.
Deluxe Edition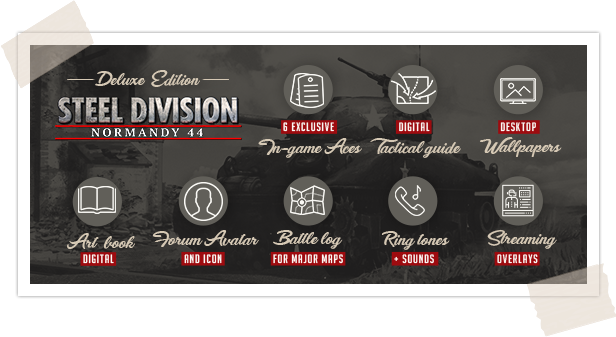 The Deluxe Edition of Steel Division: Normandy 44 comes with the following extras:
Art Book:
A detailed look at the art and making of Steel Division: Normandy 44
Tactical Guide:
A digital book getting you up to speed with the terrain and tactics of the game.
Six Exclusive in-game aces: Historical personalities you can deploy on the battlefield
Ernst Barkmann (Germany, Panther A tank)
Joseph Priller (Germany, Bf109A fighter plane)
Dick Winters (The USA, Paratrooper Battalion)
Wilfred Harris (The UK, Sherman Firefly tank)
Leo Major (Canada, sniper scout)
Kurt Knispel (Germany, Tiger II)
Battle Log:
Major maps of the game and how to fight them
Deluxe avatar and icon for the Paradox forums
Unique ringtones and text message sounds
Wallpapers:
Artwork from Steel Division you can use to decorate your computer desktop
Streaming Overlays:
Steel Division themed overlays for those who stream on Twitch or YouTube.
Fitur Game
Single-player
Multi-player
Online Multi-Player
Steam Trading Cards
Steam Workshop
System Requirements
Minimum:Requires a 64-bit processor and operating system
OS: 64-bit Windows 10 / 8.1 / 7 with Service Pack 1
Processor: Intel Core i3-2100 (3.1 GHz) or equivalent
Memory: 3 GB RAM
Graphics: 1 GB AMD 5570 or nVidia 450
DirectX: Version 11
Network: Broadband Internet connection
Storage: 32 GB available space
Sound Card: DirectX Compatible Sound Card
Untuk informasi lebih lanjut tentang game ini silahkan lihat di Steam store untuk game ini di sini https://store.steampowered.com/app/572410/Steel_Division_Normandy_44/
Kebijakan Layanan Gimori
GIMORI hanya menjual lisensi software, CD Key Game Original dan voucher game, tidak menjual game bajakan
Game ori dalam versi digital, berupa CD Key/Serial Number atau Steam Gift, jadi bukan dalam bentuk CD/DVD fisik, file instalasi game bisa anda download setelah game masuk dalam akun anda
CD Key adalah serial number atau product code yang di scan dari box DVD fisik, atau dari official game retailer, kode ini hanya bisa digunakan satu kali
Sebagian besar CD key kami dapatkan dari Game Bundle, beli saat diskon di Official Retailer (Humbun, Fanatical, GMG, etc), atau kerjasama dengan retailer game fisik untuk game non-steam.
Stok CD key terbatas untuk masing-masing game, stok bisa habis. Sering kali kami harus menunggu musim diskon berikutnya untuk kembali menambah stok
Pastikan spek komputer anda memadai untuk menjalankan game ini, silahkan lihat System Requirements di atas dan bandingkan dengan spesifikasi komputer anda
Perhatikan petunjuk cara redeem codenya, umumnya disesuaikan dengan platform.
Game yang sudah dibeli tidak bisa ditukar atau dikembalikan
Pembelian game Origin tidak membutuhkan Username dan Password
Game Origin berupa CD Key atau Product Code, dan tidak dibeli langsung via Origin, key ini dari versi retail yang bisa diaktifkan di Origin
Stok game Origin terbatas dan harga tidak mengikuti Origin sale
Stok game Origin dan Uplay diupdate oleh distributor game yang bekerjasama dengan Gimori
Sebagian besar game Steam hanya bisa diaktifkan di negara tertentu (Indonesia, Malaysia, Thailand, Vietnam, Singapore dan Filipina).
Harga Steel Division: Normandy 44 Deluxe Edition ini bisa berubah sewaktu-waktu tanpa pemberitahuan